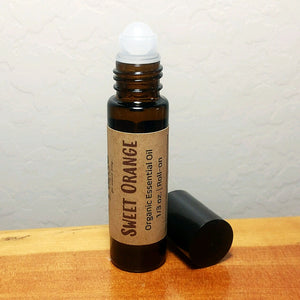 Wild Herb Soap Co. LLC
Sweet Orange Oil Roller
Regular price
$7.75
$0.00
Unit price
per
Ready to topically apply!  Comes in a handy .33 oz amber glass roller ball bottle. Use on-the-go as perfume or for therapeutic purposes.  

SAVE WHEN YOU BUY 2! 
Choose 'Set of 2' in the drop down and you'll automatically get 10% off your 2nd roller ball bottle!

Wild Herb's pure essential oils are conveniently blended in this ready-to-use glass amber roller top bottle. You can roll it right on your skin.

We use organic grapeseed oil to blend this mixture. Grapeseed oil is chosen for you to get the most benefit from our high grade essential oils, since grapeseed oil penetrates the skin the fastest and deepest of all carrier oils. Plus, it is the least greasiest.

Sweet Orange essential oil has the lush aroma of a freshly cut orange.  The aroma of this essential oil is uplifting.  To some, it can be slightly invigorating and to others, somewhat calming.

For external use only.
Available exclusively at Wild Herb Soap Co. LLC
---