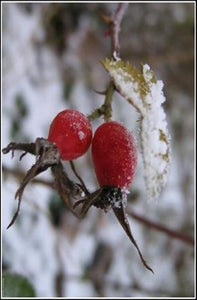 Wild Herb Soap Co.
Rose Hip Seed Oil
Regular price
$9.95
$0.00
Unit price
per
Rose hip seed oil is cold pressed from the seeds inside the hips, which contain an oil high in essential fatty acids and vitamin C. Our rosehip seed oil is obtained from a certified organic source (certified in USA and EU) and is the highest grade. It is unrefined and therefore, virgin.
True virgin rose hip seed oil has an earthy type aroma to it. There's no scent of any rose in rose hip seed oil, as the oil is cold pressed from the seeds where there is no rose scent. This earthiness aroma does not normally come through in the end product, since it is not strong enough. We use this in our own beauty serum, which smells and works fantastic!
It is known to be a dry oil and is easily absorbed into the skin. May be blended with other carrier oils, butters and essential oils to create various topical products for maintaining healthy skin.
Rose hip seed oil is commonly used in beauty and personal care products to treat treat wrinkles, fight premature aging, aid in reducing scars, healing of burns and fighting acne and other skin blemishes and disorders. Overall, this oil is excellent for toning the skin.
This oil is best when refrigerated or stored in a cool, dark space. May place several drops per pound of vitamin E in this oil to extend the shelf life.
INCI: Rosa Mosqueta
Country of origin:  India
---