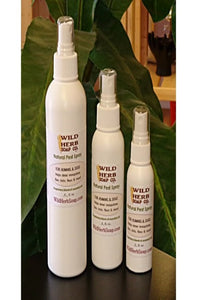 Wild Herb Soap Co. LLC
Pest Spray (for humans & dogs)
Regular price
$12.75
$0.00
Unit price
per
Natural pest spray is for humans and dogs. Spray on bodies, clothing, bedding, etc. Professionally formulated to deter many types of pests including flies, mosquitoes, spiders, fleas, ticks and more. Use on children, adults and dogs.
► No harmful toxins
► No harmful chemicals
Our powerful formula will not harm anything but the pests. Unique proprietary blend of essential oils known to deter pests is the same blend used in our Dog 'N Suds ~ Flea and Tick soap. Use them both for the ultimate in protection. Our soap is all natural, whether is states it's for dogs or humans. We simply add some beeswax to the soap to make them harder due to the rubbing of the soap on the fur. This allows the soap to last longer.
Use:
Shake, spray, play.
Ingredients: Distilled water, vinegar, essential oils of Sweet Orange, Citronella, Lemon, Lavender, Peppermint and Eucalyptus, Leucidal (natural preservative).
---