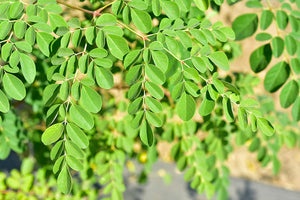 Wild Herb Soap Co.
Moringa Oil, Virgin Unrefined
Regular price
$9.25
$0.00
Unit price
per
Our Moringa oil comes from a certified organic source.  This treasured oil is pure and undiluted.  Many distributors will add other oils to make a 'blend'.  Or, the oil will be yellowish in color, which means it was solvent extracted, depleting all of the healing compounds from the oil.  Wild Herb does NOT do this; we only sell the pure virgin form! 
This oil will vary in thickness (from thin to very thick) and you may notice a slight pulp in it from time to time or even cloudiness, which is GOOD.  These mean that the oil is natural and has not been processed with chemicals.  The color of virgin moringa oil should be light green to vibrant green. 
Moringa oil is cold pressed naturally from the seed of the moringa plant and is native to India, which is where our oil comes from.  This oil is historically used as an anti-inflammatory, antioxidant, widely used in anti-aging serums and moisturizers. 
Moringa oil is actually a carrier oil, although some do refer to it as an essential oil.  Moringa can be applied directly to the skin by itself, mixed in bath/body products for topical application or mixed with essential oils.  
This oil is best when refrigerated or stored in a cool, dark space.   Shelf life is approximately 1 year.

INCI: Moringa oleifera
Country of origin:  India
Parts used/Method:  Seeds, cold pressed
---