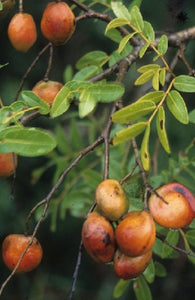 Wild Herb Soap Co
Copaiba Pure Essential Oil
Regular price
$8.00
$0.00
Unit price
per
Copaiba essential oil has a very light, gentle woodsy/sweet aroma.  Because the scent is so light, it is most commonly used in topical applications.  Highly used for healing and pain, Copaiba is a must have for many natural users. 
Copaiba is steam distilled through the gum resin of the Brazilian copaiba tree.  One single tree can surprisingly produce more than 12 gallons of oil per year. 
Copaiba may also be known as Copaiba Balsam to many.  But, are they the same?  Copaiba balsam is a resin which is collected from the trunk of Copaifera (Copaiba) trees. Copaiba balsam is then processed to create copaiba oil.
Following are historical uses of this oil and have not been evaluated by FDA. See 'Terms & Conditions' for full disclosure.
Historical Health Benefits
Anti-Inflammatory
Antiseptic for cleaning wounds
Combats acne

Immune system booster

Historical Emotional Benefits
Eases anxiety and stress

Promotes mental clarity
Details
Organic


Flash point: 200

Botanical name:

Copaifera officinalis




Country of origin: Brazil

Method of extraction: Steam distillation

Blends well with frankincense, cedarwood, sandalwood, roman chamomile and ylang ylang


8 ounce size and larger come in a plastic bottle.
---