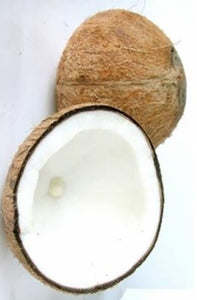 Wild Herb Soap Co.
Coconut Oil, Extra Virgin
Regular price
$8.95
$0.00
Unit price
per
Extra virgin coconut oil is raw oil, meaning it has not been processed. It is in its virgin state and extremely beneficial. Our organic extra virgin coconut oil has a smooth, silky texture with a light coconut scent. It is highly nourishing, healing and soothing for the entire body, including the hair. The oil is easily absorbed into the skin due to its relatively small molecular structure.
Our extra virgin coconut oil is obtained from a certified organic supplier.  The oil is top shelf and always fresh.
Coconut oil is best known for protecting and healing of dry skin and other skin disorders. This oil is anti-bacterial and anti-microbial and has antioxidants that work to combat the signs of aging. Loaded with antioxidants, it is believed to help combat the effects of aging by thwarting free radicals that cause the connective tissues in the skin to harden. Coconut oil has antioxidant properties, which may slow the emergence of age spots by hindering oxidation.
Healthy way to remove makeup, while moisturizing your skin.
In soap making, coconut oil will add hardness to the soap bar, along with helping to create a bubbly, thick lather.
INCI: Cocos nucifera (coconut) oil
---