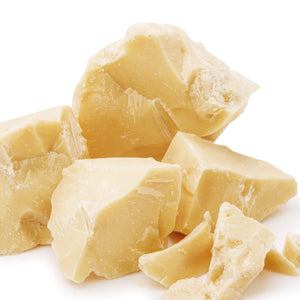 Wild Herb Soap Co.
Cocoa Butter, Deodorized, Organic
Regular price
$11.95
$0.00
Unit price
per
 We are proud to offer this high grade naturally deodorized cocoa butter, which is sourced from a certified organic supplier.  This rich cocoa butter has been deodorized to remove most of the chocolate aroma. There will still be some chocolate scent, since this is deodorized through a steam method and no harsh chemicals have been used. In addition, that rich yellow cast to the butter will still be present. The only way to remove all chocolate scent is through use of chemicals and we do not carry this type. Our deodorized cocoa butter is still healthy and rich.
Wild Herb luxurious cocoa butter may be applied directly to the skin, as it softens and melts at body temperature. Excellent for use in many personal products such as lotion, soap, body butters, lip balm and other toiletries.
Cocoa butter is historically used for dry skin relief and to aid in maintaining the elasticity of the skin, as it is rich in vitamin E. Pregnant women are known to rub cocoa butter on their bellies to help ease the tightness, although there is no scientific proof that it prevents stretch marks.
Sold by weight.
INCI: Theobroma Cacao (Cocoa) Seed Butter
---