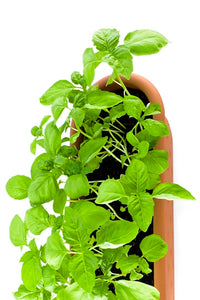 Wild Herb Soap Co. LLC
Basil, Sweet Pure Essential Oil
Regular price
$8.50
$0.00
Unit price
per
Organic Basil essential oil has a warm herbaceous aroma with a minty and spicy edge. The essential oil is steam distilled from the whole flowering herb. A unique quality about this plant is that if its leaves wilt from lack of water, one only needs to water it thoroughly and place in the sun for a quick recovery.

This herb has been used since ancient times in India for its medicinal value. At one point in time, the leaves were finely ground into powder and inhaled for relief of headaches.

Following are historical uses of this oil and have not been evaluated by FDA. See 'Terms & Conditions' for full disclosure.
 Health Benefits

Antispasmodic, antibacterial, antifungal, anti-inflammatory, a

ntiseptic for cleaning wounds

Relieves headaches and muscular pain
Clears congestion
Protects & helps to build immune system
Stimulates hair growth
Relieves motion sickness
Treatment of insect bites
 Emotional Benefits
Eases anxiety
Relieves depression
Stimulates memory
Relaxes the body
Details
Organic
Flash point: 167

° F

Botanical name: Ocimum basilicum
Country of origin: India
Method of extraction: Steam distillation
Blends well with bergamot, lavender, lemon, lime, neroli, rose geranium, rosewood and sweet orange.
**Essential oils up to 4 ounce size come in an amber glass bottle. 8 ounce size and larger come in a plastic bottle.
---