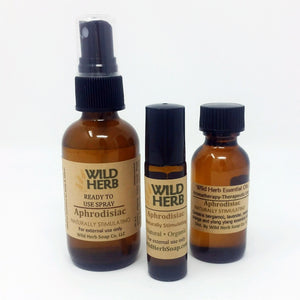 Wild Herb Soap Co.
Aphrodisiac Exclusive Wild Herb Blend
Regular price
$10.50
$0.00
Unit price
per
Wild Herb Aphrodisiac pure essential oil blend sets the mood for a romantic encounter. This alluring aroma includes essential oils known to increase sexual arousal, while relaxing and comforting your mind and body. Enjoy this deep aroma and prepare for a night to remember.
Enjoy an aromatic blend of Bergamot, Ylang Ylang, Lavender and Sweet Orange pure essential oils.
Our exclusive essential oil blends can also be used for scenting lotion, body spray, massage oil, candles or even dropping a bit in your warm bath.
Choose from the following types:
Ready-to-go .33 oz. roll-on bottle: Contains grapeseed oil, organic essential oils.
Ready-to-go 2 oz. spray: Contains distilled water, organic essential oils, witch hazel, leucidal natural preservative.
Full strength: Undiluted pure essential oils (available in 1/2, 1 and 2 oz. sizes).
For external use only.
Available exclusively at Wild Herb Soap Co.
---