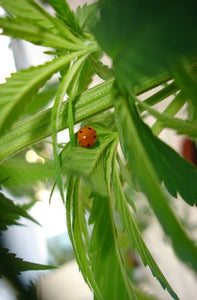 Wild Herb Soap Co. LLC
Hemp Seed Oil, Unrefined Virgin
Regular price
$9.75
$0.00
Unit price
per
Our hemp seed oil is virgin, unrefined, pure and natural. It is cold pressed pressed from the seed of the hemp (cannabis sativa) plant and provided to us by a certified organic source.
Hemp seed oil is known for its effectiveness as an emollient, giving the skin a natural rich feel. Hemp seed oil is made up of 80% essential fatty acid, the highest amount than any other plant. Since it so closely matches our own skin lipids, it penetrates into the cells and lubricates the surface between them. Hemp seed oil contains an ideal ratio of Omega 6 and Omega 3, which plays a preventative role in skin aging. This pure, unrefined hemp seed oil has a green tone with the natural scent of hemp.
Hemp seed oil is known to relieve extremely dry skin, aiding in the healing of cracks. Many applications for dry skin conditions such as eczema, psoriasis, etc., contain hemp seed oil. It is highly desirable due to its anti-inflammatory properties.
Excellent for use in beauty products, soap making, lotions, body scrubs and more. Does not leave a greasy feel, as many other oils do.
INCI: Cannabis Sativa (Hemp) seed oil
---