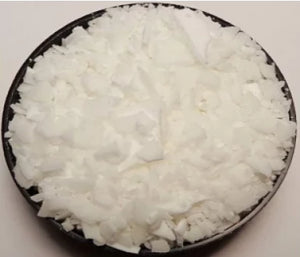 Wild Herb Soap Co. LLC
Emulsifying Wax
Regular price
$11.95
$0.00
Unit price
per
Emulsifying wax is an essential ingredient in creating lotions and creams. Commonly called "e-wax", this product is necessary to blend oils with water. It can be thought of as a sort of "glue" to hold your recipe together. Without it, the oils would separate from the water and not blend.
Our complete e-wax is vegetable based and conforms to the specifications of the National Formulary. It is extremely easy to work with and won't separate during formulation.
Our e-wax is organic and is derived from fats of palm oil and cetostearyl alcohol which contains a derivative of a fatty acid ester of sorbitan.  The wax is further treated with polysorbates, which is needed to help bind it to the water to make a smooth emulsion in products.
You can count on us to provide a consistently high quality wax every time you order from us. We blend our own lotion and creams with this wax.
IMPORTANT: Be sure to watch your temperature CLOSELY when making lotions, as this is extremely important!  If the water and oils/butters/wax is not accurate, your lotion will not turn out. 
Sold by weight.
INCI: Ceteraly Alcohol and Polysorbate 60 and PEG-150 Stearate and Steareth-20
---