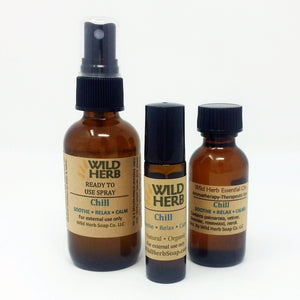 Wild Herb Soap Co. LLC
Chill
Regular price
$11.00
$0.00
Unit price
per
Relax your muscles - reduce tension. Our exclusive blend, Chill, will aid in restoring your body and mind to a relaxed state. Feel the tension just wash away. Perfect to use for yourself or with that perfect partner. Excellent for use at any time of the day.
Perfect aromatic blend of pure organic essential oils historically used for relaxing include Palmarosa, Vetiver, Lavender, Rosewood and Neroli.

Our full strength exclusive blends can also be used for scenting lotion, body spray, massage oil, candles or even dropping a bit in your warm bath.
Historical uses of this oil blend have not been evaluated by FDA. See 'Terms & Conditions' for full disclosure.
Choose from the following types:
Full strength: Undiluted pure organic essential oils (available in 1/2, 1 and 2 oz. sizes)
Ready-to-go 2 oz. spray: Contains distilled water, organic essential oils, witch hazel, leucidal natural preservative.
Ready-to-go .33 o. roll-on bottle: Contains grapeseed oil, organic essential oils.
For external use only.
Available exclusively at Wild Herb Soap Co. LLC
---