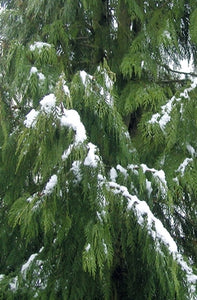 Wild Herb Soap Co.
Cedarwood Pure Essential Oil
Regular price
$8.00
$0.00
Unit price
per
Cedarwood Himalayan essential oil has a sweet woodsy aroma. Many have the opinion that this oil has an earthy or musty note, reminiscent of the forest floor.
This is Himalayan Cedarwood, also known as Tibetan Cedarwood. There are many types of cedarwood so one must be certain as to the exact species they require, if applicable.
Following are historical uses of this oil and have not been evaluated by FDA. See 'Terms & Conditions' for full disclosure.
Health Benefits
Antiseptic, antifungal

Antispasmodic

Anti-inflammatory

Astringent (protects skin from toxins and bacteria)

Insecticide (repels mosquitoes, flies and household pests)
Emotional Benefits
Calms nerves and tension

Promotes relaxation
Details
Organic

Method Of Extraction: Steam Distillation

Botanical Name: Cedarus deodora

Flash point: 200° F

Country Of Origin: India

Blends well with bergamot, cinnamon, frankincense, sandalwood and rosemary.
**Essential oils up to 4 ounce size come in an amber glass bottle. 8 ounce size and larger come in a plastic bottle.
---