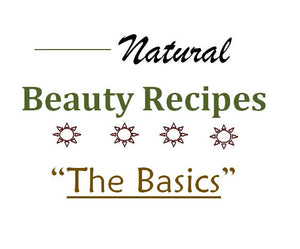 Wild Herb Soap Co. LLC
Basic Natural Beauty Recipes EBook
Regular price
$2.95
$0.00
Unit price
per
This original eBook contains simple basic recipes to make your own all natural beauty products. Simple, easy to follow instructions.
Author: Carol Howe, Owner of Wild Herb Soap Co. LLC
Date: May, 2013
Format: eBook (digital download in .pdf format)
Within the pages of this book, you will find very simple and basic recipes for:
► Body & Foot Scrubs ► Facial Masks ► Lotion
► Scalp Applications ► Lip Balms ► Body Sprays
You'll also find helpful hints.
Total number of recipes in this book: 21
These recipes contain everyday basic ingredients that are easily accessible and cost effective. Many of the supplies to make these products can be found in my store and even in your home right now.
Wild Herb Soap Co. makes all natural, handcrafted products and is a firm believer in natural living. In keeping with this theme and as the owner of Wild Herb Soap Co., I have created this easy to use ebook to assist you in making your own products to enhance your day to day life.
Try making your own products to give as gifts to friends, relatives, co-workers, etc. Handcrafted items are always a huge hit and greatly appreciated by all.
Your purchase will be emailed to you in PDF format within 1 business day.
IMPORTANT : Wild Herb Soap Co. LLC/Carol Howe assumes no liability in connection with the recipes contained within the pages of this book. You are aware that you are using these recipes at your own risk. Products and claims presented have not been evaluated by the Food and Drug Administration and are not intended to diagnose, treat, cure or prevent disease. Information provided is for informational purposes only and you should always seek medical assistance from your physician.
---